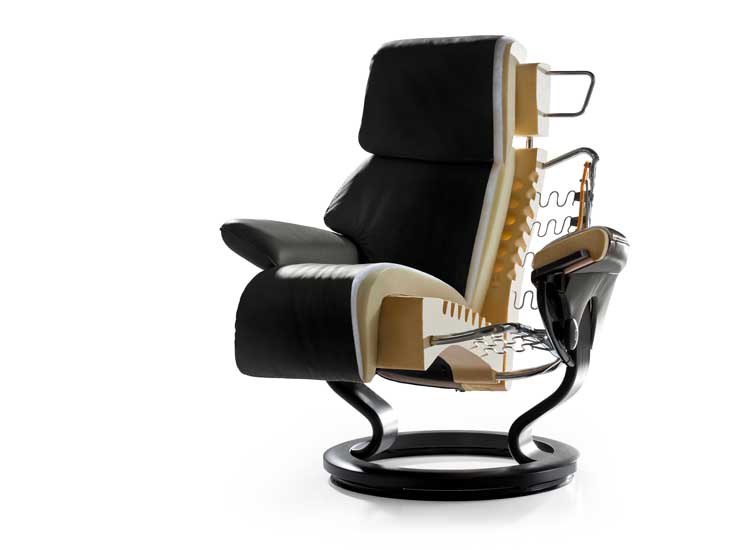 RELAX WITH THE ULTIMATE COMFORT OF STRESSLESS AND SEE JUST HOW EXTRAORDINARY YOUR BODY AND MIND FEEL.
Our patented comfort technologies, the BalanceAdapt™ and Plus™-systems, provide perfect support by allowing our recliners and sofas to move with the movements of your body. And now you can fully customize your recliner or couch to best suit your body, style and use.
Our products are much more than pieces of furniture – they are investments in your home; investments in your comfort. Lay back in a Stressless recliner and experience the complete oneness with the piece of furniture – a feeling of effortless support. Feel how the Plus™ system embraces your back and neck and how the Stressless Glide system reads your body to understand your optimal level of comfort. Every aspect of our furniture cohesively works together, making the Stressless name powerful.
NO ONE BUILDS A RECLINER LIKE STRESSLESS.
For us, this level of design is simply our standard. Our mission is to develop the most comfortable seating in the world.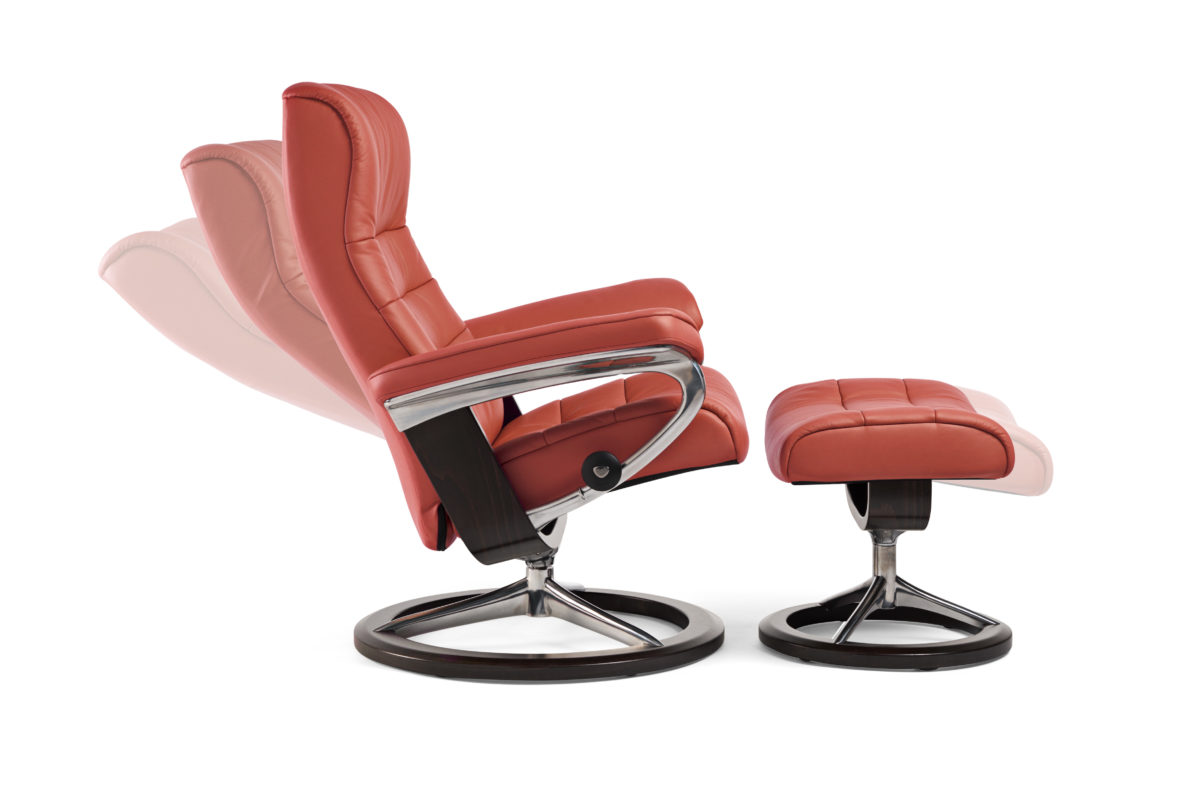 THE NEW LEGCOMFORT™ SYSTEM
the elegantly integrated footrest
A light press of a button elevates the concealed footrest to give the legs and feet the comfortable support they need. Stressless® recliners and sofas now offer even more comfort thanks to the LegComfort™ system. The space-saving integrated footrest can be perfectly adapted to suit individual body types and offers a uniquely comfortable sitting experience.
The LegComfort™ system is available in all recliner models with Classic bases in sizes M and L, in addition to two new sofa models Stressless® Breeze and Stressless® Lux. An optional battery pack is also available so that you enjoy the LegComfort™ system wirelessly.
Why LegComfort?
QUICKER
The LegComfort™ system can be easily operated by gently pressing touch sensitive buttons and is faster than comparable systems..
ADJUSTABLE
The length of the footrest can be individually adapted to your own leg length.
LONGER
The LegComfort™ system can be extended further than most comparable systems.
It's a way of life stretching far beyond a cause we advocate, because respecting the environment means valuing our heritage and preserving our culture as Norwegians.
Complex processes are designed by our engineers to ensure the safety of our employees as well as our land. We use intensive processes, such as close-loop steel degreasing to build metal bases, which allows us to avoid harmful emissions into the air and the fjords. We implement new practices and processes to protect the health of our employees and the cleanliness of our water.
Green materials are sought out and purchased and water-based paints and lacquers are sourced. Only the highest quality materials are used. Our goal is to build a product with a minimal ecological footprint, a product that spans decades. Our daily efforts are what make Ekornes products quality products. We give you furniture that lasts, so you too can do your part for the earth.
Why choose Standard furniture
for Ekornes Stressless?
Largest selection on Vancouver Island.
Our design consultants have been professionally trained by Ekornes so you can trust our knowledge.